VENTURI INJECTORS
These devices create a suction to suck air or fluids by working on a pressure differential between the inlet and outlet and essentially have a diameter reduction in the pipe that causes the differential pressure.
To select the correct venturi, the following must be known:
1) What do you want to inject? (Fluid or Gas)
2) How much do you want to inject per hour?
3) What is the available pressure/flow rate feeding into the venturi?
4) What is the expected/required flow rate after the venturi?
Ozogen can provide a full range of standard and modified venturi injectors.
UNITS IMPORTED FROM CHINA
UNITS IMPORTED FROM AMERICA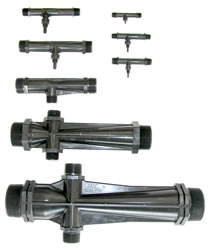 LOCALLY MANUFACTURED UNITS
50mm with 13mm, 14mm and 15mm inner inserts to allow fine tuning of water flow and suction.
Please contact us with your requirements sales@ozogen.co.za